Whether you're building a new home or renovating an existing one, choosing what you want for your floors isn't an easy decision to make. There are factors that need to be considered before selecting the right one, such as the color, design, material, and kind of flooring.
One of the most prominent aspects that makes it difficult to decide immediately is the kind of flooring to go for. In this article, the focus will be to weigh the advantages and disadvantages of installing carpet tiles or regular carpets.
Notably, carpets can spruce up the look of any area in your home when they fit the space perfectly. For this to happen, the homeowners should carefully choose what's suitable for the room's theme and function.
Although the color, designs, and material should be based on your preference, it would help to know the pros and cons to help you decide in choosing between carpet tiles and regular carpets based on other factors:
Carpet Tiles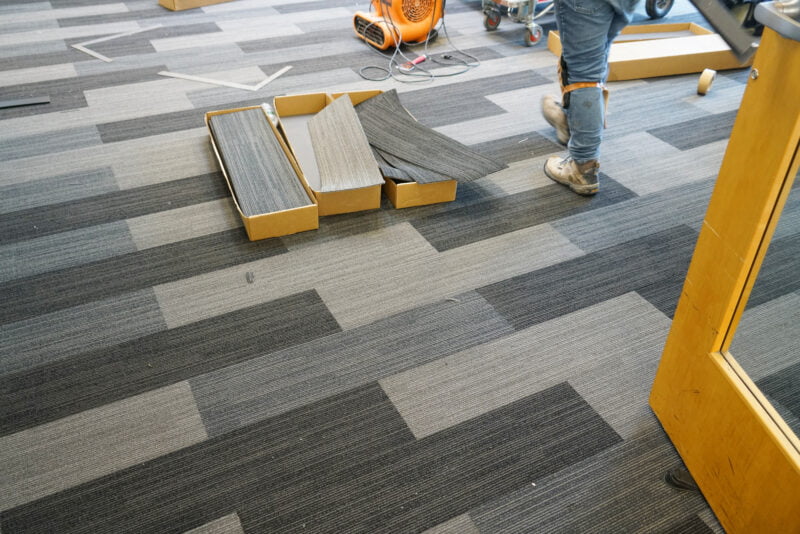 Pros
These individual carpet squares are easy to install, even if you are not an expert and want to do it yourself (DIY) at home.
You can buy a specific number of carpet tiles based on the size of the room, you don't need to buy it in rolls, making it more affordable than regular carpeting.
Carpet Tiles can be installed in a mix-and-match style to add personality and flair to the color and layout of the tiles. Moreover, a good carpet tile company could provide some tips and suggestions on the best combinations and styles.
Cons
After the installation, there is a possibility of uneven appearance, especially when going the do-it-yourself route. If the tiles don't line up perfectly, there may be gaps or lines between tiles that are easily visible.
Installation techniques will also vary if you have other considerations like underfloor heating, in which case it may be best to ask for expert advice on how to deal with the situation.
Some kinds of carpets are not available in tile form, and choosing a less than optimal second option may affect the whole aesthetic of the room.
Edges may start to fray after continued use, and heavy foot traffic could expedite the process of degradation, making it more likely to have a square or two to be replaced sooner than later.
Regular Carpet
Pros
The wall-to-wall carpet's appearance is more seamless and can add elegance to any room.
There are more options available to make the carpet more luxurious, such as the underfelt choices you can select from.
Due to the professional installation and the broad range of options based on the carpet fibers and brands, a regular carpet may have a significantly longer life expectancy than carpet tiles.
The carpet edges are safely tucked away from foot traffic and are less likely to fray. For this reason, regular carpets are easier to maintain and more durable. Although, it could depend on the type of carpet fibers you choose to install as some may be prone to fraying.
Cons
The installation of a regular carpet may be more complex, depending on the type of carpet and underfelt you decide to use. It may be advisable to seek the help of professional carpet experts to properly install a regular carpet. That being the case, extra costs would then have to be factored into the budget along with the other expenses.
You can be less creative with one single roll of carpet that covers the entire floor. Unlike the carpet squares that provide more freedom in terms of the color matching and styles that can be put together.
Installation could take longer and more preparation is needed in affixing a regular carpet. Additionally, some manufacturers have specific guidelines for the type of products to use in securing the carpet depending on the carpet's fiber and material. There may also be a need for specialized installation products and tools to effectively install them.
Conclusion
Your choice of carpet would make all the difference to the room and the installation thereof. If following instructions comes naturally to you and you want to spend time doing the installation by yourself, carpet tiles may save a lot of time and money.
But, if it's the absolute lush luxury you prefer, you may want to choose a high-quality wall-to-wall carpet that experts can install with the proper tools and know-how. That said, you should consider all the pros and cons mentioned above for both types of carpets before deciding on which one to opt for to enhance the aesthetic appeal and comfortability of your home.