Indoor-outdoor living is exceedingly popular, and homeowners around the country are taking full advantage of their exteriors by installing gorgeous outdoor kitchens, dining areas and seating spaces. There's just one problem: the weather. Bright and hot sunlight, drenching rain, freezing ice and snow and aggressive wind can make spending time outdoors unbearable. Fortunately, the following solutions can be installed in many outdoor areas to make indoor-outdoor living beautiful and comfortable.
Shade
Shelter from the sun and other outdoor elements is one of the most important components of a comfortable outdoor space. An effective indoor-outdoor living area should at least have some method of providing shade, but the most luxurious indoor-outdoor spaces can offer even greater protection from inclement weather. However, the level of shade and protection is largely dependent on a homeowner's budget for outdoor renovations. Some tiers of possible shelter include:
Umbrellas. Available in a wide range of styles (and price points), umbrellas are an excellent option for renters or homeowners with exceedingly limited budgets and minimal outdoor space.
Shade sails. Shade sails are stretches of fabric that can be fixed or retractable over an outdoor space. This solution can be attractive and incredibly cost-effective, though it is best to spring for professional installation.
Pergolas. Most people recognize a pergola as a structure with spaced roof rafters that allow for some natural light. Pergolas can have a solid roof to provide more thorough shade and protection.
Solid patio covers. Typically integrated into the roof of the home, a solid patio cover is the most permanent protection from outdoor elements, but it will require significant renovation to install.
Some homeowners also like to surround their patios with vertical outdoor shades, which can be rolled up or down — automatically or by hand — to offer greater protection from wind, sun and the prying eyes of neighbors. Such coverings are not necessary, but they can provide a deluxe look and feel to an indoor-outdoor space.
Cooling
The summer months are the prime period for outdoor enjoyment — but high temperatures around midday can make even the best protected outdoor living space feel sweltering. To ensure comfort during the hottest times of year, homeowners should equip their patios with one of the following cooling systems: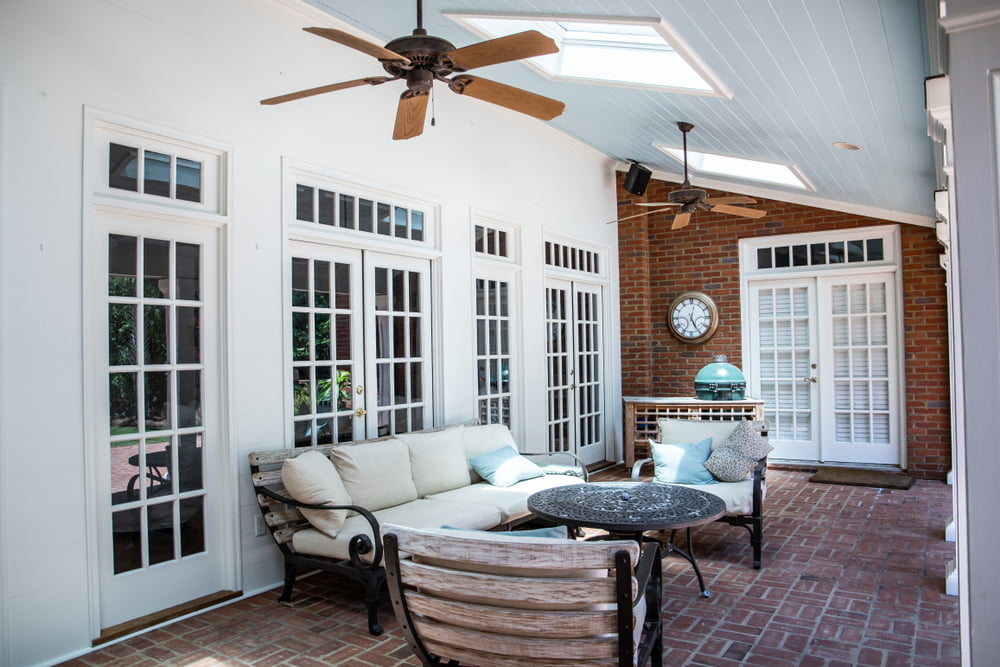 Ceiling fans. Outdoor ceiling fans utilize the body's natural cooling system by wicking away sweat through improved airflow. Homeowners can find a variety of sizes and styles of outdoor ceiling fans to match their indoor-outdoor aesthetic.
Misters. A misting system will emit a light fog of cool moisture into the air to reduce the temperature. This works best in dry climates, where the extra humidity will feel pleasant.
Swamp coolers. Swamp coolers work like misters to add humidity and drop temperatures, but coolers can be more effective over a large area and will not cause anything on the patio to get wet.
Heating
In many climates, it is possible to enjoy the great outdoors during the winter months — but homeowners should still equip their indoor-outdoor spaces with heating systems to keep themselves and their guests appropriately warm and safe.
Wood or gas fire pit. There is something inherently comforting about a roaring fire. Even in the warm months, a fire pit might be a central place for guests to gather as the sun sets. Fire pits or fireplaces tend to be built into the hardscape of the yard, but renters can invest in chimeneas or fire tables as temporary fire spaces.
Propane or electric heaters. Heaters can be found in a vast array of sizes and styles to fit any indoor-outdoor space. Propane heaters tend to be more efficient, but electric heaters can be more cost- and space-effective.
It might be worthwhile to note that in some climates, a few blankets could be enough to keep guests warm during the cold-weather season. Such a modest drop in temperature is why so many homeowners want to research the best places to buy a home in Florida.
It would be truly unfortunate to invest one's hopes and savings into a beautiful outdoor space that is utterly unusable because of the climate. By putting intention into the integration of certain climate control systems and tools, every homeowner can enjoy the indoor-outdoor area of their dreams.