If you're a proud grandparent with grandchildren who are finally old enough to come to your house for sleepovers, you may want to set up a guest bedroom just for them. The same goes if you've moved closer to your family and will be setting up a new home nearby.
It can be tricky working out how to design a bedroom that the kids will love, though, so it pays to check out a few tips to help you get the setup as perfect as possible.
Select a Color Palette
You will want to decide on a color palette for the room. Unlike with many other areas of your home, you may want to opt for a much more colorful and brighter look in a bedroom for a child.
Although, if you don't like the idea of painting or wallpapering the walls with anything other than neutrals, you can bring in plenty of fun shades via bedding, rugs, artworks, furniture, pillows, and other accessories.
This is often a good way to go if your grandchild has a different favorite color each time you ask, as it's simpler to swap out some accessories and other items as their preferences change than to keep repainting or wallpapering.
Choose a Theme
You might also like to choose a theme for the bedroom to tie the whole look together. This theme could be anything, from a particular Disney or other movie or book character to something like cowboys, princesses, jungle, ocean, dinosaurs, robots, fairies, horses, etc.
It pays to check that your grandchild is still interested in the topic they were nuts about a few months ago, though, as they can change their obsessions quite regularly.
If you choose an evergreen theme, such as many of the ones listed above, you should find it easy to pick up prints, bed linen, lamps, decals, and other elements with the theme already printed on them. If not, look at creating your own art pieces and buying appropriate materials to make goods for the room.
Set Up Beautiful Beds
You want your grandchildren to sleep well when they stay with you so they feel good, are more likely to be well-behaved, and don't interrupt your night continually. To make this happen, you must have a comfortable bed for them to sleep on.
If you have two kids in your life who will be sleeping in the same room, you'll need to purchase bunk bed frames and quality bunk bed mattress options to go on them.
You might like to install bunk beds even for one child, though, as they can then have a friend stay over at times.
Alternatively, purchase a single or king single bed and mattress to place in the room. Add a mattress topper to the beds for extra plushness and ensure the children have comfortable pillows to sleep on, too.
Also, finish the bed with soft-on-the-skin, breathable bed linen that helps your grandchildren feel safe, secure, and snuggly.
Ensure There's Decent Storage
We typically need quite a lot of "stuff" to clothe and house kids, and they accumulate a lot of their own bits and pieces, too. As such, to help keep the guest bedroom neater and more ordered, it's wise to ensure it has enough storage.
Hopefully, the room will have a built-in closet where you can keep many clothes and other items. These wardrobes are also handy for storing extra blankets and pillows, plus things like kid-sized umbrellas, raincoats and boots, and toys.
If you don't have a built-in, bring in a freestanding wardrobe and add a chest of drawers. Plus, all kids' bedrooms need bookshelves to store a child's favorite titles and somewhere to pop their laundry and organize arts and crafts supplies. A desk may be an appropriate addition to the room if you have older grandchildren.
Let Your Grandkids Have Some Input
To assist your grandchild in loving the bedroom you set up for them immediately, give them a chance to contribute. Let them have some input into the colors and theme selected, the bed linen you buy, the posters or prints you place on the walls, which books you buy for them to have on hand for nightly reading time, and more.
To ensure kids don't go too crazy with their requests, you might like to tell them they get to pick three things or that you can spend up to a certain amount of money, depending on their age, maturity level, and understanding.
Note, too, that over time your grandchild is sure to want to personalize the room further with perhaps a photograph of them with their parents or with you, some drawings they do themselves, or a favored toy or blanket they wish to leave at your house.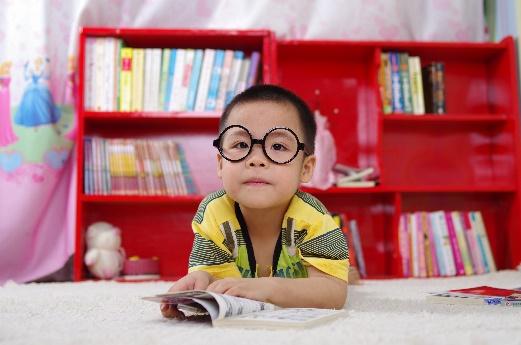 As you plan out and decorate the guest room for the youngsters in your family, be sure to allow flexibility for their needs to change over time, and don't feel like you have to get everything perfect immediately. Focus more on spending special time with your grandchildren and creating fun rituals and habits you can enjoy together at your house each time they stay.