In April 2022, 9News reported the sad story of a single mother who was on the verge of homelessness with her little daughter. This was basically the result of their inability to find a new accommodation following the near expiration of their rental vacate notice.
As a result of this news, Adam Crouch, the Parliamentary Secretary for the area, announced that 25 new social housing projects were going to be delivered to reduce this burden of home deficits. You can read more about the news here.
Anywhere, including the Central Coast, where home construction is being carried out, one service that is always highly required is carpentry. In this article, we will be focusing on how this service is affecting and can affect homes in the Central Coast area and indeed any other part of the world.
Elevating Central Coast Homes with Skilled Craftsmanship
To discuss how carpentry craftsmanship can help elevate, both the value and functionality of your home, we will look at the role that this skillset plays at the different stages of a house construction. To effectively do this, we will break the role into two. These are: Residential Carpentry and Construction Carpentry.
Looking at these different roles will throw more light on just how important carpentry is to any building project.
Residential Carpentry
Residential carpentry covers all aspects of carpentry carried out on already completed buildings. This will usually be classified under upgrades, renovations, or repairs.
If you were to build a patio or outdoor deck, you will require the services of a residential carpenter. The same will apply if you wanted to fix or repair plantation shutters, wooden fences, wooden doors, and other aspects of the building built of wood.
Construction Carpentry
Construction carpenters are tasked with constructing, installing, erecting, and repairing different types of fixtures and structures made of plywood, wallboards and all other types of wood. They carry this out with the aid of special carpentry tools (hand and powered).
As part of their duties, they do the following:
Study blueprints and plans, creating layouts, dimensions and a detailed list of the materials required
Mark and cut materials to specified measurements as indicated in the plan
Install and mount the previously cut and joined materials and ensure that they are done correctly. These include mounting all the required frames (for windows, doors, roofing etc.), flooring and any other wooden structural requirement.
Ensure that the correct regulatory codes are observed.
The carpentry skillset is one that is highly priced in the construction industry. A skilled Central Coast carpenter will never want for gainful employment. The same will apply with such workmen in any other part of the world.
It is important to state here that most carpenters can usually switch between the two. While some may specialize in just one aspect of carpentering, it will be more a matter of personal choice than an inability to do the other. Of course, there are some artistic aspects of carpentry that require even more specialized skills which we will not just categorize under general carpentry. We will look at a few of these in the next section.
The Artistry of Central Coast Carpenters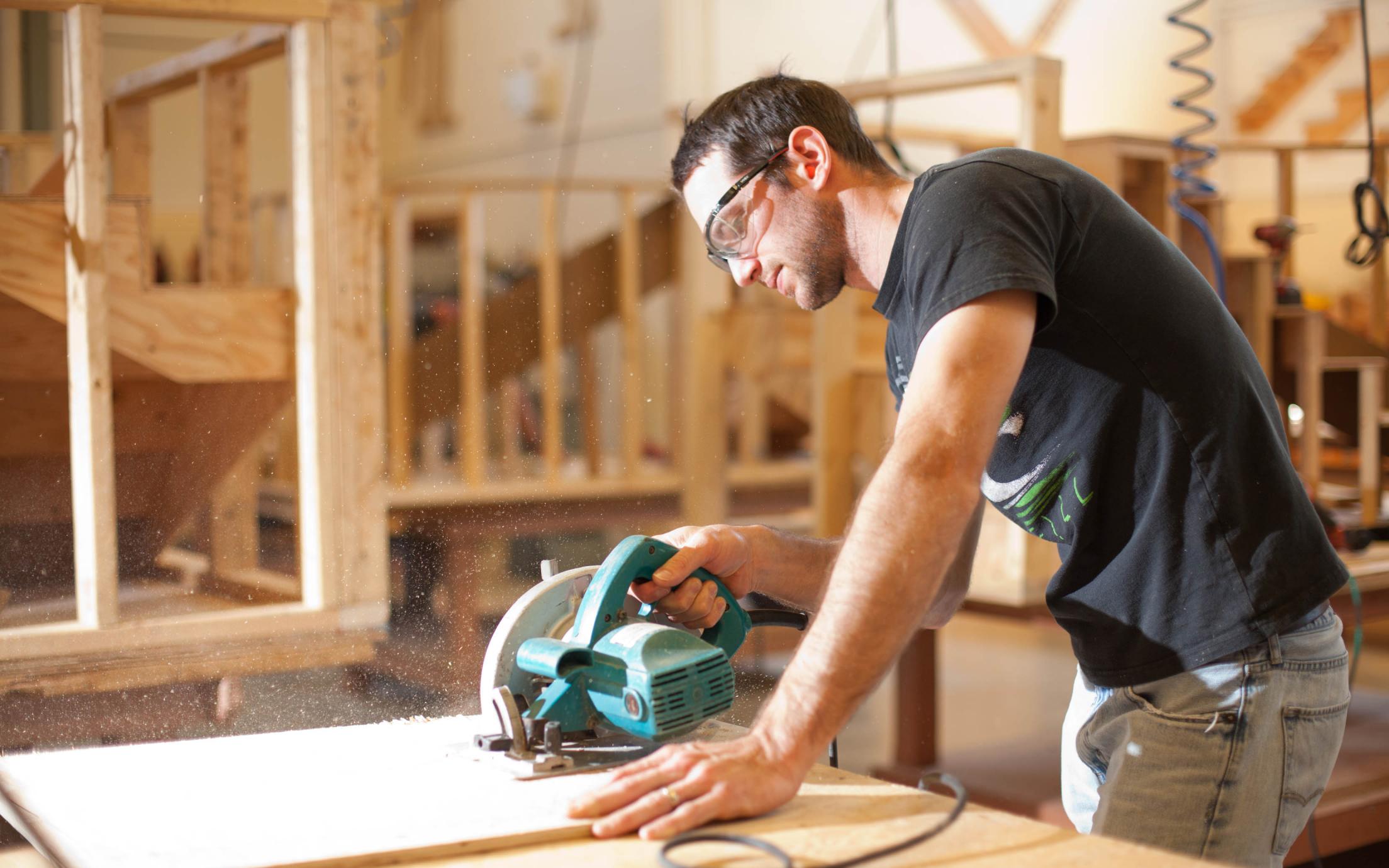 Long after a building construction job is completed, these guys can continue to add value to your home in more ways than one. In this section, we shall look at some ways they continue to add value to both your home and other spaces with their skills and craftsmanship.
While a lot of the work done in construction carpentry is classified under Rough Carpentry, those done, either as part of the completion of the project or after the project has been completed, are regarded as Finish Carpentry.
Our focus in this section falls under the later; Finish Carpentry. As the name implies, this aspect of the job emphasizes finesse and artistic creativity. It goes beyond just the basic cutting and nailing to what we can regard as true craftsmanship.
In Central Coast, workmen who have honed their skills to achieve this level of artistry can command way more wages than the average workman. This will be the same in any part of the country.
Jobs that fall into this category include:
Trim Carpentry – Looking at the images that you will find here: https://www.pinterest.com/, you can see the visual appeal the well-done trim jobs add to any home. These require immense levels of skill honed over years. When done, the value that artistic trims add to any space is massive.
Upholstery and Leather Work – Your sofa, couches, lounges and the like are all done by carpenters who understand the use of upholstery and leather. All sofas are not made equal. The quality that one exhibits over another is mainly a function of the skill level of its builder.
Sculpting, Carving and Artistic Woodwork – Many homeowners own wood carvings, furniture with special designs and artistic woodwork that leaves one wondering how in the heavens the craftsman was able to achieve such artistry. This is not the work of just any carpenter but the work of master craftsmen in the field.
There's no doubt that the artistry exhibited by top carpenters in the city can sometimes leave one in awe. We must however appreciate the fact that, regardless of the type of carpentry practiced, every one of them contributes to the whole.
The fact that the job done by one group is not as visible as that done by another, like the Trim guys, does not mean that they are not important. No matter how wonderful the trimmings in a home are, if its frames are not structurally sound, then everything will eventually come down.
Conclusion
This article has focused entirely on a unique set of folks who many may have overlooked over the years. From all we have looked at in this article, it should now be clear to us all just how important these guys are.
So, whether you are just beginning your building project or you want to carry out some renovations or upgrades on an existing one, you need highly skilled and reliable carpenters. You owe it to yourself and your project to ensure that you only choose workmen who will deliver high quality jobs at all times, whether these are visible jobs or hidden structural ones.
Make the right choice, and you will reap the reward of a well-done job.