Are you looking to set up your outdoor patio this summer? Whether you are looking to create a chic and cozy space or a more modern and vibrant atmosphere, there are a few simple steps to get you started.
From choosing the right furniture to adding a few decorative touches, setting up your outdoor patio can be a fun and rewarding experience. Keep reading to find out how to set up your outdoor patio.
Find quality outdoor furniture.
Creating an outdoor patio is a great way to add living space to your home. It provides a comfortable place to entertain, relax, and enjoy the outdoors. Before you begin setting up your outdoor patio, it is important to plan out the design and select the right furniture.
The first step is to choose the right size and shape for your patio. Consider the size of your outdoor space and how much furniture you will need to fit comfortably. Also, decide on a shape that works with your space, such as a square, rectangle, or circle.
Next, you should determine the furniture you need. Select quality outdoor furniture that is made from weather-resistant materials such as teak, wicker, or aluminum. You should also consider the style that you want for your patio.
For example, when choosing outdoor sofas, there are a variety of styles available, ranging from traditional to modern, so you can choose the one that best fits your outdoor space. Additionally, you should also think about the cushioning of the sofa.
The cushioning will provide additional comfort and help protect the sofa from the elements. Look for pieces that have cushioning that have been treated to resist UV rays. You'll also want to decide if you want to add items like a dining set, armchairs, an outdoor bar, or a firepit to complete your space.
Add a rug and other accents.
Once you have the furniture picked out, you should add some accessories to bring your patio together. A rug is one of the best additions to create a soft, inviting atmosphere.
Adding a rug is a great way to tie the whole patio together. A rug can be a great way to add a touch of color or pattern to your patio space, as well as helping to define the area.
It's important to consider the size of the rug in comparison to the size of your patio and the amount of furniture you plan to place on it, as a rug that is too large or small can disrupt the balance of the space.
You can also add accent pieces such as planters, lanterns, and throw pillows to bring a sense of warmth and personality to your space.
Incorporate plants and other natural elements.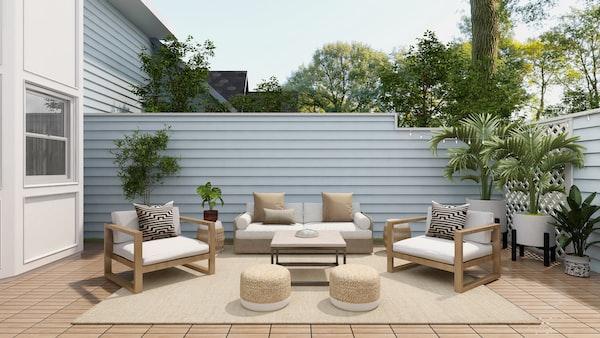 Incorporating plants and other natural elements is one of the best ways to set up a beautiful outdoor patio. Nature-inspired features are visually pleasing and can bring a calming atmosphere to your outdoor space.
To begin, take into account the size of your patio and the amount of light it receives. This will help you determine which plants, trees, and flowers work best for your patio. Consider adding a few potted plants or hanging baskets of flowers to add a splash of color and greenery.
If you have more room, install a vegetable or herb garden and create a unique outdoor experience. If you have a larger patio, consider planting a few trees and shrubs to create a natural privacy barrier.
You can also add other natural elements such as stones, rocks, and wood. For example, build a stone or brick pathway to create a cozy nook or make a wood bench to add a rustic touch. You can also incorporate water features such as a pond, fountain, or water feature to create a tranquil atmosphere.
Add outdoor lighting.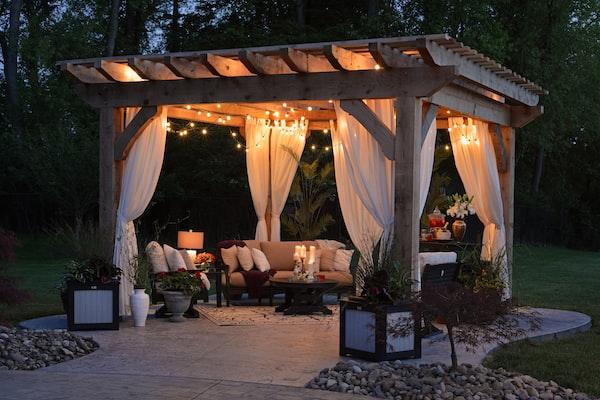 Adding outdoor lighting to your patio is a great way to extend the life of your outdoor living space and make it a more enjoyable place to hang out. Consider the size and shape of your patio and the type of activities that you plan to do on it. You may want to place lights along the perimeter of the patio or in the center.
There are a variety of outdoor lighting options available, from traditional lanterns to modern LED lights. Choose a style that will fit in with your overall patio design and create the atmosphere you're looking for.
Setting up an outdoor patio is a great way to make the most of your outdoor space. Taking the time to choose the right furniture, accessories, and decorations can create a cozy and inviting space that can be used for entertaining, relaxing, and enjoying the outdoors.