We all know that getting decent sleep and rest each week is vital to staying healthy, happy, and productive. However, most of us don't do much to set up our bedrooms in a way that helps us not only sleep easier but also feel more relaxed and comfortable when we're in this part of the home.
You won't rest well if you're worried about jobs you have to take care of the next day or can't switch your brain off because you can see clutter all around you. As such, some critical must-haves for your primary bedroom will help you make the most of this area and get more out of each week.
A Good Bed and Mattress
The first thing to consider is where you sleep. To get the best rest possible, you need a comfortable mattress that supports you adequately and doesn't lead to any back, neck, or shoulder issues. If your current bed is ten years old or older, it's time to invest in a new, affordable mattress that suits your sleep style and the space available in the room.
Don't forget that the bed base is crucial, too. You want something that will properly support the mattress and hold up over time. There's no point in buying an excellent new mattress if it's only going to sag after a while due to a lack of support.
Appropriate Pillow and Bedding
Similarly, your slumber won't be great if you don't have the right type of pillow and bedding for your needs. You must rest on a pillow that provides adequate support, isn't too high or too low for your body size and sleeping style (e.g., side, stomach, or back sleeper), and retains its shape well over the years.
As for bedding, to make your bedroom feel like a luxury oasis, choose soft-on-the-skin, silky smooth, and breathable sheets to snuggle down into that wash and wear well and hopefully contain as fewer chemicals as possible. These days there are many value-for-money organic cotton and bamboo sheets worth investing in. You might like different weighted options for different times of the year, along with some quality quilts or blankets to keep you warm when the temperature drops.
Plenty of Storage
If you're like most people, you probably find you have many items in your bedroom that threaten to spill out into other rooms. If so, this shows just how vital having plenty of primary bedroom storage is. You need enough closets, drawers, shelving, etc., to store your items so that they don't make a mess around your bedroom, stress you out, and affect your ability to relax and sleep.
If there isn't enough storage in your bedroom as it's designed currently, take some steps to rectify this issue. For instance, build in a wardrobe, add more shelving up above drawers or doorways and the like, or use low containers that can fit under your bed to store out-of-season clothing and other items in. Another option, if you're upgrading your bed, is buying a base that contains built-in drawers.
The Right Lighting
Lighting is another crucial component of having a bedroom that you like to be in. Layered lighting is the best way to go in this part of the house since you do numerous things in the space. For instance, it's helpful to have bedside lamps and downlights that you can dim or turn up for when you're getting ready for bed, want to set a romantic mood, or need targeted illumination for reading.
Bright lights on the ceiling and above your dressing table, if you have one, are also helpful when you want to see in more detail. Don't forget to add lighting in your walk-in or other closets, too, and you may also want to install a small spotlight cum reading lamp near your preferred reading chair or nook.
A Point of Focus
When designing your primary suite so it looks and feels great and makes you want to spend more time there, don't forget to add a point of focus in the room. All spaces need somewhere to draw the eye in and act as a standout. In your bedroom, it might be that you paint one wall (often the one behind the bed) in a feature shade, or you could purchase a gorgeous artwork to dress up a wall or two.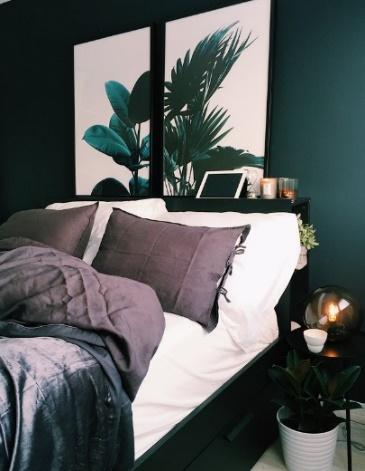 These are some of the must-haves for your sleeping quarters, but you might also like to put in some additional seating, add blackout curtains so the room is dark enough when you're trying to sleep, and install ceiling fans or HVAC to ensure you're comfortable year-round, no matter the weather. A floor-length mirror or two, plenty of privacy, and some cozy, personal touches are also elements to consider.
Regardless of how you choose to decorate and set up your primary bedroom, take your goals and needs into consideration as you go, and don't rush the process. This is one of the most vital rooms in the house, so you want to get it just right.