If you're thinking about buying and moving into your dream home, you need to be prepared and informed about the process. However, many people find that they don't know what to do or where to start. Fortunately, you're not completely on your own.
There are plenty of resources available to assist you throughout the process. From choosing the perfect location to making sure you handle packing and moving efficiently, there's a lot to consider. In this article, we'll provide helpful tips for buying and moving into your perfect abode.
Finding Your Dream Home
Before you begin your search for your dream home, take the time to create a list of must-haves and nice-to-haves. This will help you prioritize your wants and needs and narrow down your options more effectively.
For example, consider the number of bedrooms and bathrooms you require, whether you prefer an open-concept living space or a more traditional layout, parking needs, and other specific home features that matter to you.
If you're looking for a property with stunning views, you may want to explore mountain view homes for sale.
Work with an experienced real estate agent who can guide you through the process of finding the perfect home for you.
They will provide you with valuable advice and insights into the local market, as well as grant you access to listings that meet your criteria. Your agent will also assist in negotiating the best possible price for your dream house.
Once you've found the perfect home, make sure to schedule a home inspection before closing the deal. This will ensure that the property is safe and sound, without any underlying issues that could end up costing you thousands of dollars in repairs down the line.
Listen to your inspector's advice and use this information to negotiate repairs or adjustments to the sale price if necessary.
Preparing for the Big Move
As you prepare for your move, start decluttering and organizing your belongings well in advance. Not only will this make packing easier, but it can also allow you to save money on moving costs.
Be sure to sort through your possessions, donating or selling anything you no longer need or want, that way you can avoid excessive clutter and make the packing process much smoother for yourself.
Before packing everything, you should consider renting a storage unit so that you can store any extra belongings that won't fit in your new home but that you aren't ready to give away or throw out.
This will enable you to remain organized and prevent clutter from accumulating in your living spaces. You can even find climate controlled storage units near me to store items that require special temperature and humidity conditions. Storage units can be extremely beneficial for these purposes, so it could be a worthwhile investment.
When it comes to packing, start with items you don't use daily, such as out-of-season clothing, decorations, and other non-essential items. It's important to label boxes clearly and accurately, so you'll know where everything is once you arrive at your new home.
Additionally, don't forget to pack a box with items you'll need immediately, such as toiletries, clothes, and other everyday necessities.
Making the Most of Your Dream Home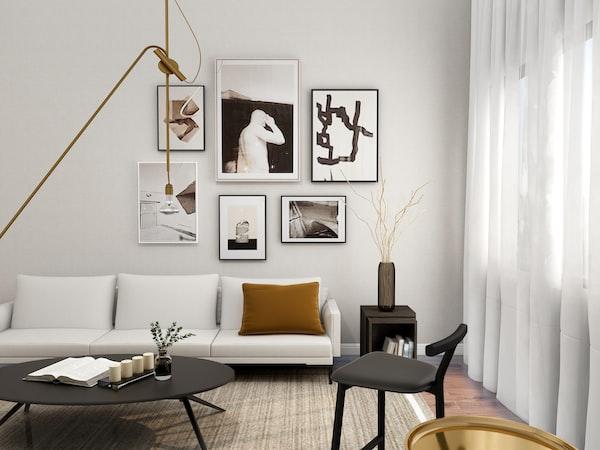 Once you're settled into your new home, make it a point to personalize your space by incorporating your unique style, displaying your favorite artwork or family photos, and placing cherished items throughout the house.
This will help turn your new property into a welcoming, comfortable, and truly personalized space that feels like home.
Maintaining your home is critical for preserving its beauty and value. Develop a realistic schedule for routine maintenance tasks such as cleaning, landscaping, and preventive repairs. By staying on top of these tasks, you can protect your investment and keep your dream home looking its best.
Don't forget to celebrate your new home and create lasting memories with family and friends. Host gatherings, game nights, or simply spend quality time with loved ones in your living spaces. Remember, a dream home isn't just about the physical structure – it's about the memories and experiences you create within its walls.
As you can see, the process of buying and moving into your dream home takes careful planning, patience, and organization. There's a lot you can do to settle into your space, and it is worth the investment of time and money.
If you're careful about your planning and decorating, you can create a home environment that everyone will appreciate for years to come. By following these tips, you'll be well on your way to enjoying your new home and creating a life that truly reflects your dreams and aspirations.