Everyone wants to live in a clean house with everything in place and all appliances working perfectly. Rolling up your sleeves to give your abode the love and care it needs will not be regretted. Your house will love you back by providing comfort, protection, and peace of mind for your whole family. It'll also be free of clutter and awful smells.
A well-maintained home will save you on repairs and increase its value when you decide to put it on the market. Whether you're a new homeowner or a seasoned one, there're some tips you should apply to help you keep your house in top shape. Let's have a look at them below:
1. Make Sure That Appliances And Other Systems Are Performing Optimally
To keep your house in top condition, you'll have to be keen enough to notice when appliances are not working as they usually should. For instance, you should be able to know that the AC is underperforming when it blows in warm air instead of heated. It will require that you call your local company that carries out AC maintenance for homes to have it serviced. The same should apply to other appliances like your stove and fridge. Assess your house further by checking if your fire extinguisher is well placed. Test smoke and carbon monoxide detectors for defects and check if the garage auto-reverse door feature is working well. Don't forget to flush unused toilets regularly and run water in spaces to check for leaks or clogs. Check if there are any issues at all with your oled tv. Should you find any issue that may cause inconvenience to your whole family, know that maintenance professionals are always one call away.
Even if everything is working just fine, don't wait until they've broken down to have them checked. Instead, schedule regular maintenance to lengthen the service of your appliances and save on costs.
2. Make A Cleaning Schedule
Getting your house cleaned doesn't have to be overwhelming; you only have to work smart. For a hassle-free house cleaning, break down the chores into daily, weekly, monthly, and yearly schedules, depending on the type of cleaning you want to employ. This way, the process will be manageable. For instance, daily tasks will include making your bed, putting items where they should be, washing dishes, and sweeping the floor. You don't have to vacuum the house, do laundry, or dust surfaces every day; you can do these chores weekly. Deep cleaning carpets and areas that are hard to reach, cleaning windows, and cleaning the fridge are some tasks that can be done once a month.
If you follow your schedule, you'll find that house cleaning is no longer a challenging undertaking, and your house will be in great shape. A good playlist can go a long way in making cleaning time enjoyable.
3. Don't Forget The Exterior Of Your Home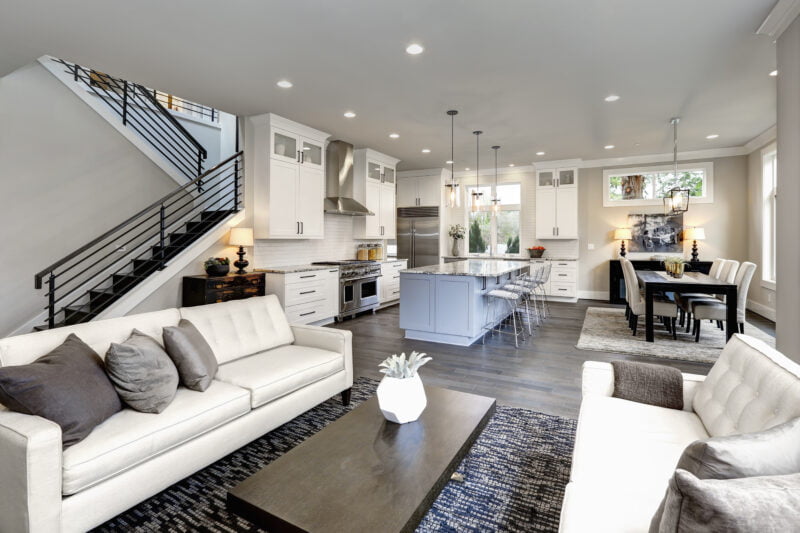 The outside of your house is just as important as the inside. A clean and well-kept exterior will add to the aesthetic of your dwelling besides saving on repair costs. For instance, you can manage your lawn by watering it and clearing it of leaves and other debris. Give the deck a deep clean once in a while and remove the clutter. Replace exterior peeling wall paint and clean the gutters of debris to clear the water passage. Check the outside drainage, especially during the rainy season, to ensure that rainwater will properly flow into and not away from it. Apart from lowering the value of your house, its external condition can also impact the inside. For example, untamed tree roots can grow into and weaken your home's foundation or clog the drainage. So, external house cleaning is just as important as the interior.
4. Don't Ignore Repairs
If you want your house to be in tip-top shape, you should deal with repair problems as soon as they occur. It's easy to put off home repairs for later, but that can escalate the problem or make them irreversible. For instance:
A leaking roof can cause property damage, encourage mold growth, and shorten your roof's life.
Broken windows will overwork the AC apart from letting in bugs.
Leaking water pipes and faucets will gradually cause rot and loosen tiles while wasting water.
A faulty AC will compromise air quality, which will add to respiratory health risks while shooting your power bills to the roof. It is also a potential fire hazard.
Clogged drainages can flow back filthy water into your house, cause a flood, burst pipes or compromise the structural foundation of your home.
You should, however, make it a habit to have your whole house inspected once in a while to combat any developing problem.
5. Declutter
Hoarding unused items cramps up space in your house no matter what space they occupy. Decluttering will not only create space, but will also make your home look bigger, neater, and easy to clean. You should, therefore, gather and get rid of items in your house that you don't need. Putting them in the garage won't do. Repurpose, deal in, hold a garage sale or donate items in good condition. You can throw away what is considered rubbish or even take the recyclable pieces to recycling facilities. Whatever you decide to do, declutter by all means.
6. Keep Insects Out
Insects are not only annoying, but they also carry diseases. If you let them in, they can compromise your home's environment. To keep them away, you can take the measures below:
Make sure your doors are properly closed to control pests. Insects enter through unsealed gaps and crawl through the open spaces under the door. Install a threshold under your door and seal it around its perimeter.
Put screens on your windows, doors, and vents to enjoy fresh air, especially during summer, without the interference of bugs. Use a screen made of fine mesh that insects cannot squeeze through. You can coat the mesh with clear nail polish or household cement.
Get rid of stagnant water around your house, especially on your lawn, because they're a breeding place for insects.
Keep your trash securely covered and stored properly.
Fumigate your house regularly.
Keep your kitchen clean to cut off the food supply for cockroaches, ants, and houseflies.
Conclusion
Keeping your house in tip-top shape requires commitment. A clean and well-maintained abode will ensure that your loved ones are healthy and safe. To help you maintain a consistent schedule, you can enlist the help of family and friends or hire professional assistance, especially when your home needs a thorough cleaning.