For you to have a stress-free move, you need to be organized. By being organized, you will pack your items on time, engage the best commercial movers, and move smoothly.
Since there are so many things involved when moving, many people cannot stay organized. But if you are not organized, you might be forced to pack in a hurry and damage some of your items.
But if you plan and prepare well, you will move with ease. You will get the right boxes, pack appropriately, hire trustworthy professional movers, and label the boxes properly.
Below are seven tips on how to be organized during your move
1. Pack early
To enjoy your move, you need to start packing your items early. Avoid packing the belongings on a moving day. Packing early means you will need suitable packing materials like boxes, butcher paper, and bubble wrap. Pack valuable items properly, and make the moving process smooth.
With enough time for packing, you will be able to pack everything well, sort your belongings, and get rid of items you do not need in the new home. So, whether you are moving your office items or household belongings, make sure you pack in advance.
2. Get rid of things you do not need
Another essential tip that will ensure you remain organized during your move is getting rid of items you do not need in the new home. For instance, you may have clothes, books, shoes, and other things you do not use anymore.
You can do away with them by having a garage sale, donating some to friends, or disposing of them. Once you get rid of things you do not need, you will purchase fewer packing boxes and other supplies. This means you will save time and money.
3. Label every box
Labeling the boxes when moving is one of the best ways to stay organized. You will be able to pack every item in the correct box, and it will give you an easy time when unpacking. But if you do not label them, you will add more stress to the process.
Whether you want to engage office movers or a DIY move, make sure you label all the boxes. Moreover, you do not wish your fragile items to be mishandled or the precious ones misplaced. In addition, people helping you with the move will be able to load and unload with ease.
4. Get the new address in advance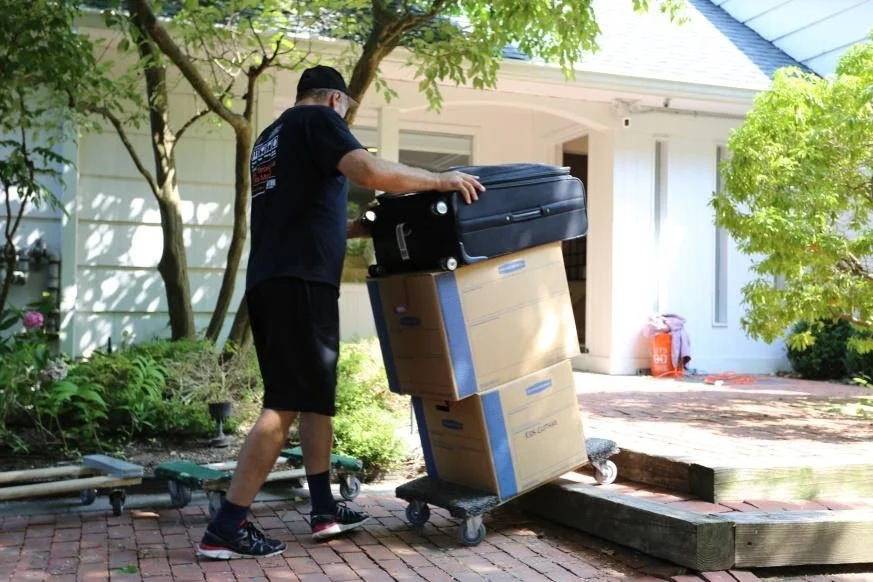 It is impossible to organize your new home without getting the new address on time. Hence, contact the relevant bodies to make sure you get the vital mails on time and pay all your utilities. Happily, it is now possible to get a new address online.
5. Hire professional movers
Hiring professional movers is another essential tip that will ensure you stay organized when moving. These are experts who understand all the details of moving. From packing to moving, they will provide a stress-free process.
The moving process will be well-handed by involving movers such as NYC movers. They are well-trained, better equipped, and experienced in handling any move.
But it is a good idea to research more about the moving company to ensure you pick a reliable one. Hence, visit their website, go through customer feedback, and learn more about their services.
A reliable moving company should be certified, insured, and estimate when requested. The household or office items, including the fragile ones, will be moved with care by engaging an honest company.
6. Have boxes for the essential items
It is crucial to have a few boxes to pack the essential items. You do not want everything to be loaded in the moving truck. Some of these items include those used a few days before and after moving.
The items include your laptop, toothbrush, toothpaste, toilettes, kitchen items, a change of clothes, and vital documents.
Make sure you have packed the essential items in separate boxes and loaded them in your car. Remember, the mover might take several days before they arrive in the new home.
7. Involve your family
When planning to move from one area to another, you need to involve every family member. When engaging a professional moving company, make sure your spouse or kids are fully involved.
They will help you pack, offer ideas, and prepare well for the move. In addition, every family member will be ready to settle in the new house.
Bottom-line
Moving is one of the most challenging tasks you will encounter. Even when you hire experts to help you with the move, you must be organized and well prepared. With good preparation, you will be able to move and enjoy your new home once you settle.
Engaging professionals is one of the best ways to ensure you are organized when moving. Since they have the needed moving skills, you will be assured everything will go on as expected. However, you should be ready for surprises such as changes in weather, some delays, or a few breakages.