Whether you're moving soon or just looking for ways to spruce up the interior of your home, there are plenty of ways to utilize fine art and create an entirely new aesthetic in your space. With the freedom to choose art that speaks to you and reflects your personality, you can freshen up your living space or office with something different and unique.
Be experimental, test out different ideas, and have fun with how you display your art. Don't be afraid to step outside of your comfort zone and take your interior design to the next level by trying out something new. Regardless of the theme or color palette you choose, the right pieces of fine art and decor will be able to complement any room in your home effortlessly.
Even though finding the perfect piece of art for your home may take some time, it will all be worth it once you see the entire space come together. By following these simple tips for displaying fine art, you will be one step closer to seeing your favorite pieces displayed beautifully in your home or office.
Display Large Prints or Canvases on Their Own
When it comes to large paintings, canvases, or prints, it is important to make these pieces a main focal point in your space. Whether you decide to hang these pieces above your fireplace, over your couch, or in your dining room where there is more space, just make sure you are not overcrowding the room or taking away from the fine art you want to display.
By keeping it simple and minimal, giving each large print or canvas art its own wall and space, you can make sure that no distractions will take away from the art you curated specifically for your home.
Choose Art that Matches Your Home/Office Space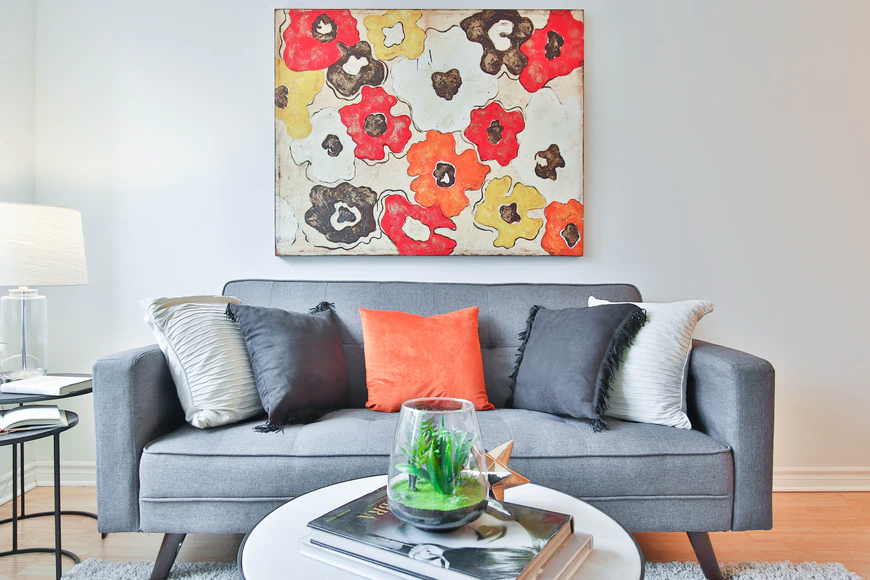 When deciding which pieces of fine art to bring into your home, it is not only important to find something that speaks to you and draws you in, but something that matches the theme and color palette you prefer.
For example, if a certain color pops in a piece of art you want to hang in your living room, use that color to accent with throw blankets, pillows, or a rug. By doing this, you can tie everything in the room together while making the art feel like it belongs there.
But, if you don't have a color scheme picked out yet, you can also use your fine art to help you pick a palette that will complement the space nicely. It is a common rule of thumb to stick with 2 or 3 main colors, thus creating a color scheme that will be consistent throughout each room in your home. By matching the art and its frame to the color palette of your home, you will find it easier to display some of your favorite fine art pieces just like the professionals do
Take Advantage of Shelving
While it is common to hang up pieces of art on the wall and display them like this traditionally, if you are looking for a unique, out-of-the-box way to show off different pieces of art in your collection, invest in shelving units to help you take your interior design skills to the next level.
With many different shelving options available, there is something out there that will not only fit perfectly in your home but help to spruce things up too. Plus, it is super easy to move your art around or change things up by using shelves, giving you the freedom to switch up your style and decor more often.
You can even use bookshelves, inset or floating, to help showcase your fine art collection along with any other knick-knacks, photos, and memorabilia that you want on display in your home or office space.
Be Sure to Hang Your Art Properly
Oftentimes, homeowners make the mistake of hanging art at the wrong height, resulting in the piece looking odd or simply out of place. To avoid this, it will be important to follow the general rule of hanging art between a 60-68 inch range or at eye level, while keeping it centered in the line of sight as well.
Keep in mind, this is not just for single pieces, but the same rule applies for hanging up multiple works in one place or creating a gallery wall to complete a room.
Utilize More Lighting
Depending on where you choose to display fine art, it will be helpful to utilize more lighting, to ensure that the pieces you love are showcased properly.
If the natural lighting is available, this is always your best option. But, if you need to you can always invest in spotlights or picture lighting to help emphasize the art in your home. Consider all types of lighting that are available, such as LED lighting or iridescent, then find what works best for the space you are trying to illuminate.
In most cases, the lighting is just as important as the art itself, making it extremely important to install the right lighting in your home if you want to display your art correctly and proudly.
Finding Ways to Display Fine Art in Your Home/Office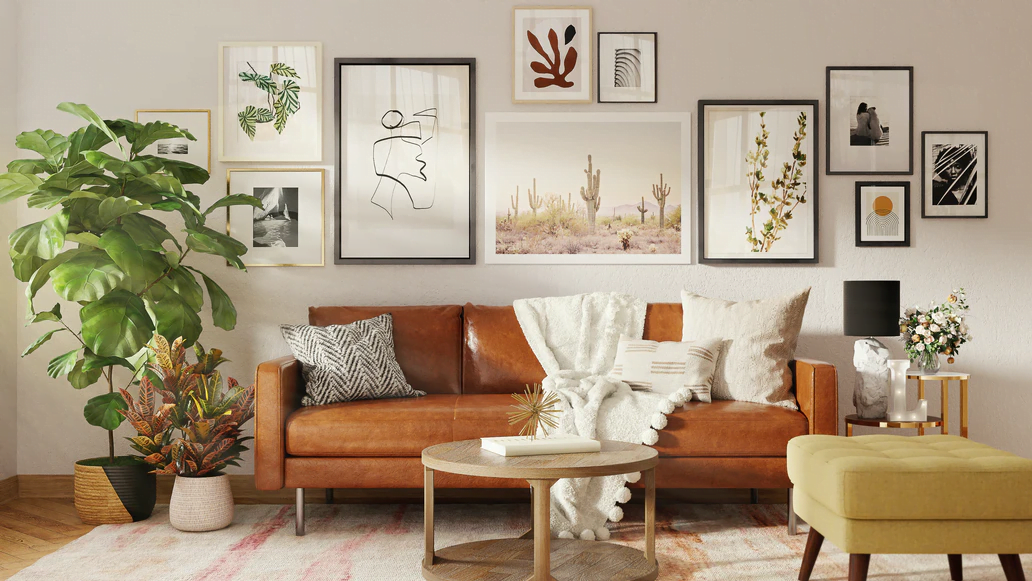 If you've been considering keeping fine art in your home or office space, there are plenty of ways to showcase your favorite works without overcrowding your walls or risking something looking out of place. By following these designer tips for displaying fine art, you will be able to show off any piece of art you want.
By giving larger pieces their own wall space, keeping things minimal, hanging the art at eye level, .utilizing shelving, and accenting with more detailed lighting – these designer tips for fine art can help you spruce up your home and create an even better interior design with pieces that you love and can enjoy looking at each day.