A house is never complete without the necessary appliances. Home appliances can make your house more functional, comfortable, and convenient. But like other things, your appliances will eventually break down or show signs of deterioration after being used for several years. And even if they haven't completely deteriorated yet, new and more high-tech models will be released on the market with more functional features than your current appliances.
Upgrading your appliances may seem like a great decision, but there are several things you'll need to consider first before purchasing new ones. Remember, appliances come with a heavy price tag regardless of size. One wrong purchase could mean a massive waste of money and space. Thus, you'll need to consider all the critical factors so your new appliances can last longer and give you a higher return on your investment.
For your guide, here are some things to consider before upgrading your home appliances:
Your Needs
Before shopping for new appliances, ask yourself, 'Do I really need a new appliance?'
A new set of appliances may be a great idea if your old ones are showing signs of damage. But if you're upgrading your appliances for aesthetic purposes or simply because you want the newer versions, think if it's something you actually need and can afford. Remember that every new feature included in the newer models has a price tag. For instance, a smart laundry washer may be much more expensive than the traditional one.
If you decide that upgrading your home appliances is something you need, you must have a plan for your current or old appliances. Keeping them in your house with the new appliances will only take up more space. If your old or current appliances are still in great condition, consider donating them to community thrift stores, local churches, or other organizations that accept used washer and dryer donations. Donating used but functional appliances can be a great way to dispose of them in an eco-friendly way.
Your Set Budget
Another crucial factor to consider when upgrading home appliances is your budget. As mentioned earlier, newer and more innovative appliances are more expensive. So, is a newer set of appliances something you can afford? Can you pay them in cash, or will you use credit? Some appliance retailers offer their customers interest-free credit deals, making the monthly payments easier to afford.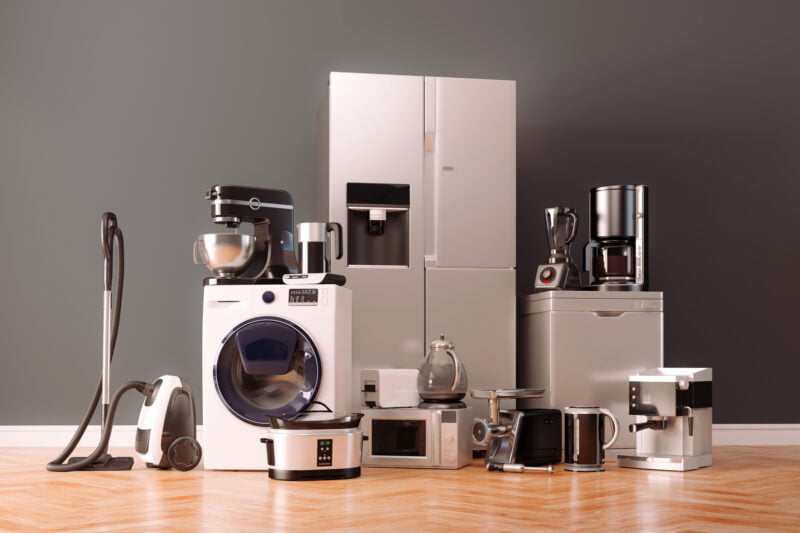 If you're on a tight budget, you can take your time to research different appliance brands and manufacturers and compare their prices or overall costs. Many appliance manufacturers may also run pricing promos throughout the year, so watch out for these deals to enjoy some steep discounts.
Your Current Home Design
Ideally, you'll want your new appliances to complement your current home design. For instance, if you have a modern-looking kitchen and want to keep it that way, you may need to focus on buying matte black or stainless-steel appliances. If you have a country-style kitchen, white appliances may be more suitable.
If you aim for a sustainable home, consider buying energy-efficient appliances. Although initially expensive, these types of appliances can significantly impact your home's overall energy usage and help lower your electric bills in the long run.
Measurements Of The Appliances
This is probably the most crucial factor when upgrading your home appliances. It can be extremely frustrating to spend time and effort searching for the best appliance and paying for it, only to realize it doesn't fit your space, or worse, you can never get it through the door! And so, you end up having to go through the same process again to find another appliance with the right measurement.
Thus, to avoid wasting time and money, take measurements of your doorway, hallway, and the space where you plan to set up the new appliance. Don't forget to use and refer to these measurements when shopping. It will help you determine if that appliance can fit through the door and into your home.
If you're unsure about the measurements, hiring a contractor to help you in this step is also a good idea. Professional contractors are more skilled in taking the exact measurements of houses and spotting any potential problem with the space or the appliances you want. But if you'll do it yourself, make sure to calculate the width, height, and depth of the area where you intend to place the appliance. Ensure to leave enough space around the new appliance.
Wrapping Up
Upgrading your home appliances is a big decision requiring careful planning and thinking. Thus, it's worth the time and effort to research and consider all these factors mentioned to help you choose the best models and appliances for your home.