Smart locks are the most demanded things while building a smart home. Sliding doors available in the home are not available with highly secure locks, and the intruders can easily break its locking mechanism. That is the reason why we use Smart locks along with the sliding doors.
In this short article, we have discussed some of the top-rated locks for the sliding doors and patios and their pros and cons.
How to Pick the Best Sliding Glass Door locks?
We have shortlisted some of the best sliding glass door locks according to the reviews given by the customers itself.
1. Toledo Sliding Glass Door Patio Lock: Best for Security
If you are looking for the best security lock, you must go with Toledo Sliding Glass Door Patio Lock. The bolts of the Toledo Sliding Glass Door Patio Lock are made up of hardened steel of 1 ¾-inch. It has an anti-theft design, including two screws which help in preventing tampering. The installation process of the Toledo Sliding Glass Door Patio Lock is relatively easy and clear to understand.
You can only use the original keys of the Toledo Sliding Glass Door Patio Lock to lock and unlock. If security is your primary focus, you must go with the Toledo Sliding Glass Door Patio Lock option.
Pros:
Keys are included with the lock.
Made up of resistant material – Boltcutter and Hacksaw
Comes with additional screws for anti-theft design.
Cons:
Advanced installation process.
No Help manual included.
2. Lion Lock: Best for Easy Installation
If you are looking for a lock with the most effortless installation process, you must choose the Lion locks that take only a few seconds to install. There are no requirements for Drill holes and any other tools. These locks are excellent choices for those who are living temporarily in a house.
The installation process requires tightening two simple screws and a rubber grip that is being clung on your door and attaches to it.
In the pack, there are ten Lion Locks that can also be used on your windows and other doors.
Pros:
Affordable by everyone
Super easy to install
Ten packs of locks inside one.
Cons:
Easily removable from inside
Unstable for heavy windows
3. OKEFAN Baby Safety: Best for Baby Proofing
The OKEFAN Baby Safety locking system is smart to keep the children away from outside areas such as the pool, tubs, etc. The OKEFAN Baby Safety is a superficial peel to stick the device attached to your sliding doors or cabinets.
It is made up of plastic, that's why it doesn't provide as much security as others, but if you want to save the little members of your family, then the OKEFAN Baby Safety is the right choice for you.
Pros:
Easy installation process
Comes with attractive colors
Relatively easy for the parent but not for kids
Cons:
Quite Bigger for small sliding doors
Made up of plastic
4. BK110 Security Bar: Best Security Bar
One of the best security locks comes in the form of a bar, but it is quite complex to install this security lock. The BK110 fits horizontally onto your door on the sliding portion, and when you want to open the door, you must lift the bar and put it on the other side of the door.
The BK110 also comes with a childproof tab, which makes lifting the bar quite heavy with the little fingers. It helps block the intruder out of your home.
Pros:
Quite Affordable
Comes with childproof tab
Easily adjustable
Cons:
Complex Installation process
Loosens after some time
5. LockiT Double Bolt Sliding Door Security Lock: Best Secondary Lock
If you want to increase the security of the existing lock coming with the sliding doors, you must go with the LockiT Double Bolt Sliding Door Security Lock.
The LockiT Double Bolt Sliding Door Security Lock requires some drilling for its installation process. Also, the user manual of the installation process is included with the lock. So, you do not find any issues regarding the installation.
Pros:
Easy installation process
No height foundation for the installation process
Cons:
Things to Consider while Buying Smart Locks for Sliding Doors and Patios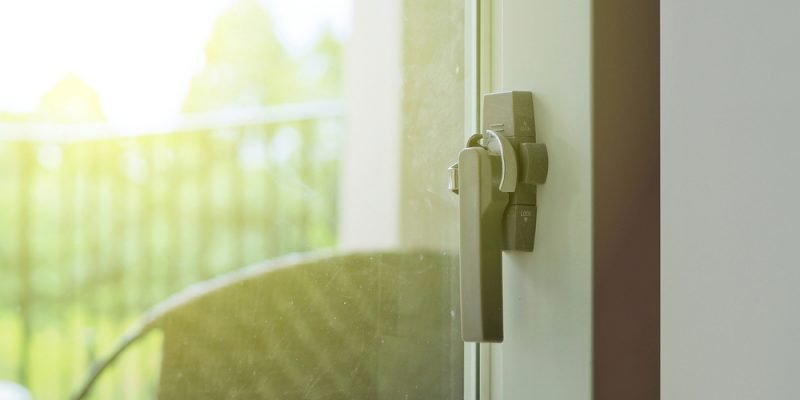 Cost of the locks – One of the crucial factors while buying locks as some costly locks provides more security, which means that the higher the price, the higher the security. But several locks are available at a low price and offer minimal security.
Size of the locks – You should take care of the size of the locks and choose the best one which best fits on your doors.
Style and design – You can choose the style and design which are best suited for your doors. There are numerous different styles of locks available for sliding doors and patios.
Security level – It is the most important factor considered while buying a lock for the doors as security is the priority for everyone. The high level of security locks keeps the intruders away.
Ease of Installation – If you are looking to buy a lock, this factor is a must. It would be best if you always looked for those locks which are easy to install. The lock must come with the instruction manual, which helps you to fit the lock from yourself.
Quality of locks – You should always invest in high-quality locks made by recognized manufacturers because avoiding the qualities results in compromising security.
FAQs
Q1. Which is the best lock for a sliding glass door?
Choosing the best lock for your smart sliding door mainly depends upon the situation, whether it fits there or not. If you want high security, you must go with a secure lock that can be locked and unlocked by keys because those locks that come with keys are secure and hard to break.
Sometimes adding more than one lock at a time can add more security to your home.
Q2. Are there smart locks available for sliding glass doors?
Many smart locks are available for the smart doors and patios, but they are quite expensive. For example, Padiolok is a smart keyless lock that uses Numpad and passcode to lock and unlock, and it costs $200.
Q3. What to do when the locks break?
These smart locks are secure, but they get bent after usage and prone to break. If the door lock brakes, the best solution available is to replace it.
It would help if you started by unscrewing the lock and then remove the handle from the door. After removing the lock, you must look for the bent in the latch; if it is too bent, you will have to purchase a new one.
Conclusion
As we have discussed some of the best locks for the smart doors and patios and provide you a brief detail about all of them. You can choose any one of them which suits your needs.
If you find this article useful, do not forget to share it once, and if you have any doubts/questions regarding the topic, do not forget to paste it in the comment section below. We will try our best to solve all your queries.
Write for us
Are you an expert in Home IoT devices or home decor/Improvement? Check our seo + "write for us" Page, to learn how you can become a Storyteller and publish a 500-word article on EmptyLightHome.